Grimmily Anne McShmiddlebopper is a 2012-introduced and fiction-only character. She is a water monster, where her home is around Lake Ness (Loch Ness in Scots Gaelic) and the Monster High identity of Emily-Anne Rigal, the founder of the WeStopHate movement. She is a celebrity among the Monster High student body.
Portrayers
In the English version, Grimmily Anne is voiced by Emily-Anne Rigal, her real life identity counterpart.
Character
Personality
Above all, Grimmily Anne is kind and considerate. She wants people to get along and be mindful of both their own flaws as those of others without judgement. To this end, she started the WeStopHate campaign to spread her message of self-care as the basis of being a pleasant person. She has become a teen celebrity because of this, but she remains humble and thoughtful.
Appearance
A Loch Ness Monster-type creature, Grimmily Anne possesses robin egg blue skin and purple and pink hair. She is broader than average and has dark brown eyes. Her fashion sense is outspoken and playful, as it contains bright colors and frilly details. Grimmily Anne never leaves her home without her signature pink bow. Grimmily Anne's broader appearance has been called by unkind comments, "chubby", but that is most likely because her appearance is mostly modeled after Emily-Anne herself, who is too confident and too secure (non-insecure) to be worried about what her body type looks like. This may also be a result with appearance because her dress seems to look so "poofy" as according to the webisode special, while in the artwork, her dress is mostly flatter in how it sticks out.
Fiction
Cartoon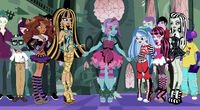 Grimmily Anne is to pay an official visit to Monster High, but she chooses to walk around the school incognito first to see what it's like for the average student. As such, she witnesses Draculaura being treated inconsiderately by her friends and her in turn doing the same to Ghoulia. Grimmily Anne consoles both girls and upon revealing herself uses their example to teach the Monster High student body that they are great, but still can do better. We Stop Hate
Timeline
Notes
Grimmily Anne McShmiddlebopper's name is a play on Emily-Anne Rigal's name and her Internet nickname, which is Schmiddlebopper.
In the special webisode, she is only shown or heard to be named Emily Anne, not her monster identity name Grimmily Anne, more taking after her real-life counterpart.
Rigal took inspiration from the Loch Ness Monster, because there's an amusement park near where she grew up in Williamsburg, VA that has a ride by that name. She also made sure to include her signature pink bow.
Being someone around Lake Loch Ness, this means that she is clearly freshwater in the section of water monsters, because being a lake, Ness is freshwater.
Ad blocker interference detected!
Wikia is a free-to-use site that makes money from advertising. We have a modified experience for viewers using ad blockers

Wikia is not accessible if you've made further modifications. Remove the custom ad blocker rule(s) and the page will load as expected.