Gory Fangtell
Comments

0
876pages on
this wiki
| | |
| --- | --- |
| | To better cover the various aspects of the subject matter, this article has been split into one main page and several subpages. Select which one you wish to read. |

You don't vote for your own kind? Vampstabbing traitor!

— Gory Fangtell in "Fright On!"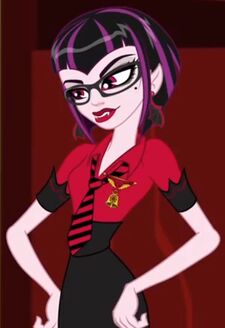 Gory Fangtell[1] is a vampire leader figure and was originally student at Belfry Prep, but transfered with Belfry Prep's student body to Monster High. She was introduced in "Fright On!".
Portrayers
She is voiced by Cindy Robinson in English.
Character
Appearance
Gory has short black and violet hair, red-violet eyes, pointy ears like all vampires, and pale pink skin. She also has a beauty mark on her left cheek. Her lips are a heavy colour of red.
Like all the vampires who go to Belfry Prep, she wears a red collar shirt V-neck with a red and black striped necktie and a black skirt. She also wears glasses, a belfry prep pin on her shirt, and a pair of bat-winged earrings.
Relationships
Family
Nothing is known except that her parents are vampires.
Friends
Gory is a leader figure among the Belfry Prep vampires and captain of its fearleading team. This brought about a rivalry with Cleo de Nile when Belfry Prep and Monster High fused, but the rivalry was eventually settled and seems to have morphed into a friendship.
While the Belfry Prep-Crescent Moon High conflict was still going, Gory and Bram took interest in Draculaura, seeking to get her to join their cultural group "Vampowerment". They took personal offense at her perceived abduction.
Romance
She dates Bram Devein. Between the two, Gory sometimes acts as a mastermind equal and other times behaves as the sly sidekick.
In the TV specials she is treated as a backgrounder, being paired with other backgrounders instead of Bram.
Timeline
References