Ghoulia Yelps's SDCCI diary
Comments

0
1,044pages on
this wiki
One of the Monster High lines of articulated dolls inclined to have a diary included is the "line" of San Diego Comic-Con International exclusive dolls. Though exclusive, they fit with the regular diaries to form a storyline.
Select a character to read their individual diary, or click here for an overview on the diary continuity.
Nekrocon Diary – Day 1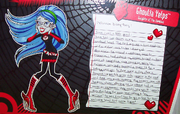 Since I was a little ghoul I have had two desires in my undead heart. The first requires a time machine and a visitors card to the Library at Alexandria… the second a weeklong pass to Nekrocon. I had ordered my desires based on their ease of completion since acquiring entry to Nekrocon seemingly required a quest fit for a trilogy and yet; "lo there came a day when a lanyard compatible pass didst appear in the mail and there was much rejoicing". My parents were still hesitant about allowing me to attend but we made an agreement; they would say yes if I would stop clutching the pass and calling it "my precious". So here I am! Now to get in line for that exclusive Dead Fast action figure!