Nekrocon Diary – Day 1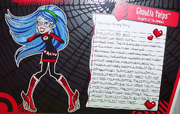 Since I was a little ghoul I have had two desires in my undead heart. The first requires a time machine and a visitors card to the Library at Alexandria… the second a weeklong pass to Nekrocon. I had ordered my desires based on their ease of completion since acquiring entry to Nekrocon seemingly required a quest fit for a trilogy and yet; "lo there came a day when a lanyard compatible pass didst appear in the mail and there was much rejoicing". My parents were still hesitant about allowing me to attend but we made an agreement; they would say yes if I would stop clutching the pass and calling it "my precious". So here I am! Now to get in line for that exclusive Dead Fast action figure!
Ad blocker interference detected!
Wikia is a free-to-use site that makes money from advertising. We have a modified experience for viewers using ad blockers

Wikia is not accessible if you've made further modifications. Remove the custom ad blocker rule(s) and the page will load as expected.