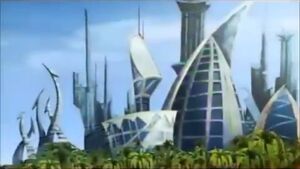 Doombai, also known as Dubai, is the capital city of the emirate of the same name, which itself is located in the United Arab Emirates.
History
On the hunt for Clawdeen's sketchbook, Frankie Stein, Jinafire Long, Ghoulia Yelps, Abbey Bominable, and Heath Burns arrived in Doombai. They tracked the sketchbook to a pile of baggage that was to be loaded on a ship, but they arrived at the harbor too late to get on the ship themselves. As such, the group got itself a rowboat to continue their pursuit.
Notes
External links
Ad blocker interference detected!
Wikia is a free-to-use site that makes money from advertising. We have a modified experience for viewers using ad blockers

Wikia is not accessible if you've made further modifications. Remove the custom ad blocker rule(s) and the page will load as expected.