To better cover the various aspects of the subject matter, this article has been split into one main page and several subpages. Select which one you wish to read.
Djinni "Whisp" Grant was trademarked on November 05, 2014 and her first doll came out in July 9, 2015. As of September 9, 2016, her doll number totals 2 and makes up - of the entire Monster High doll collection. Her most recent release was in Late July, 2016.
Dolls
San Diego Comic-Con International dolls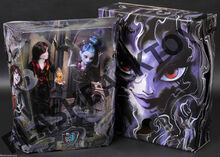 Doll: Whisp has dark purple, almost black lipstick, and her hair up in a high up bubble ponytail in magenta, black, light blue and metallic purple streaks. Her eyeshadow is fading pink, almost neutral against her purple skin. Whisp is specially made, allowing her legs to be removed and interchanged with a black genie tail that coils at the end.
Clothes: Whisp is wearing a two piece outfit, with a sparkly black top sewn to a bust piece, pink on the right side and dark blue on the left one. The bust piece carries to open pointy sleeves, with a black with gold finish strap around her shoulders and neck. The pants are removable and baggy, in black silk like material and printed purple metallic detailed swirls.
Accessories: Accesorized with translucent pink lightning bolts for earrings and purple plataform genie shoes, with a molded buckle and pointy toes.
Extras: This pack comes with a genie lamp and handle, in golden plastic, a pair of glasses for Kieran, two diaries, one for each doll and two black stands and a classic brush.
Notes: The doll is only available in a 2-pack with Kieran Valentine, which is exclusive to San Diego Comic-Con International 2015.
I Heart Fashion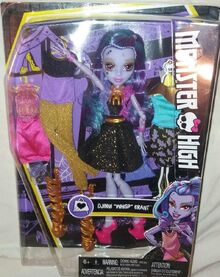 Doll: Djinni has purple and light blue hair, with a little side ponytail at the top of her hair, going into the rest of her hair. She has light blue-violet skin, red eyes, and markings by her right eye, left arm, and right hand. She also has shadow markings all over her lower legs. She wears yellow eyeshadow and pink lipstick.
Clothes: Outfit on Djinni - A Black glittery backless dress with light purple and pink ruffle sleeves.
Outfit 2 - An empire waist dress with a peplum. The bodice is black with glitter detailing. The peplum is a solid purple and leads to a purple, black and gold tear like patterned skirt.
Outfit 3 - A high collar cut out dress. The bodice consists of a pink and gold intricate Arabian styled pattern with a solid pink skirt accentuating the bodice..
Outfit 4 - A Blue and gold jumpsuit that comprises of a gold triangular cut collar with a shimmery blue bodice and shimmery gold pants.
Accessories: Accessories on Djinni - Djinni wears a large golden necklace and a pink bracelet, She comes with a pair of purple lightning bolt earrings and holds a purple purse with a scorpion emblazoned on it. Djinni wears a pair of golden knee high gladiator style platform heels.
Accessories included - Djinni includes a golden studded belt, a set of 4 purple and black bracelets and a pair of pink curved toe gravity (heelless) platform shoes.
Extras:
Notes: Djinni is exclusive to Toys R Us.
Gallery
Ad blocker interference detected!
Wikia is a free-to-use site that makes money from advertising. We have a modified experience for viewers using ad blockers

Wikia is not accessible if you've made further modifications. Remove the custom ad blocker rule(s) and the page will load as expected.