The original three dolls - Frankie Stein, Clawdeen Wolf, Cleo de Nile - of the Dawn of the Dance line had extras in the form of photos - artwork meant to represent photos taken at the party, with little notes scribbled on the back. All three dolls came with two photos: one of the entire gang (packaged with every doll) and one of three characters (unique to each doll).
The other four individual dolls of the line lacked the photos, but were instead packed with DVDs of "New Ghoul @ School". The 3-pack did contain two photos, but nothing was written on the backs.
Group photo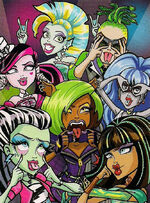 Funny faces and fabulous fashions - guess that's better than the other way around - hah! Oh voltage did we have a scary good time at the dance. What a fright night it was - I wish it could have lasted forever!
-Frankie
Goofy yet still fabulous - scary that I can pull off both isn't it? Good thing I got that app for my iCoffin that lets vampires show up in pictures otherwise Draculaura would've been a shadow of herself.
-Clawdeen
I command you not to laugh at this picture… j/k… I was born royal not humorless :P. I haven't laughed this much since the time King Tut slipped on a grape and fell off his barge into the Nile.
-Cleo
Frankie Stein's photo
Here I am with Draculaura and Lagoona - all of us dressed in fashions to die for - taken just before I needed all their help to rescue me, literally, from my "smoking hot" party dress. You're the best monster friends a ghoul could have!
xoxo Frankie
Clawdeen Wolf's photo
Me and my two BMFFs - Best Monster Friends Forever - Frankie Stein and Draculaura. Looks like we stepped right off the cover of a fashion magazine, doesn't it? I'd share the spotlight with these ghouls any day.
-Clawdeen
Cleo de Nile's photo
What would I do without Deuce and Ghoulia? Once upon a time they would have been my servants - now they're just my friends. I think I like it better this way; most definitely I like it better this way.
-Cleo