Cleo de Nile
Comment

1
1,012pages on
this wiki
To better cover the various aspects of the subject matter, this article has been split into one main page and several subpages. Select which one you wish to read.

If I gave apologies, I would give you one right now.

— Cleo de Nile in "Here Comes Treble"
Cleo de Nile is a 2010-introduced and all-around character. She is a mummy and a student at Monster High. As royalty, Cleo is unsurprisingly the Queen of the student body, though few know her confidence is not as solid as she makes it seem to be. Cleo has a difficult relation with both her father, Ramses, who demands the best of and for her, and her older sister, Nefera, who cannot handle Cleo having any successes over her and as such regularly works to sabotage Cleo's efforts and undermine her self-esteem. Had it not been for the support of her friends from the Fear Squad, the loyalty of her BFF Ghoulia, and the comfort of her boyfriend Deuce's embrace, Cleo's crown would have been crushed a long time ago. Cleo is aware she is lucky to have found people around her that allow her to flourish and while not always the most tactful, she is very protective of her crew.
Portrayers
In the music video for the Monster High Fright Song, while Cleo de Nile herself does appear in animation, she is also cast with several other character mummy analogues who received creative interpretation by the video crew. The mummy girl is played by Megan Mackenzi.
In the English version of the cartoon, Cleo's voice is provided by Salli Saffioti, who also happens to provide the voice for Clawdeen Wolf, but in "Scaris: City of Frights" their voice was provided by Celeste Henderson.
In the Latin American version of the cartoon, Cleo's voice is provided by Rocío Bermúdez in the first and second volume, but since the third volume her voice is provided by Valentina Souza.
Character
Personality
Cleo is extremely royal, so she expects everyone to treat her like it. Usually, her attitude is selfish, spoiled, and arrogant; she can't be entirely blamed for her behavior, because it's shown that she was raised to be like this. She is extremely competitive with other ghouls, especially Toralei Stripe. But deep down, Cleo's a very caring, kind, and thoughtful ghoul who cares about her friends.
Although Cleo has been known to take advantage of her friendship with Ghoulia Yelps by using her as a personal assistant or cheating off of her, she's very kind to her, and has helped her to overcome her shyness, showing that she really does care about Ghoulia and the friendship they share.
She can work well with the others if they share a common goal, like trying to avoid the gym teacher or helping Draculaura find her "perfect guy", in which case she becomes the de facto leader of the ghouls. She's a highly effective organizer and a leader.
In the first half of the Volume 1 webisodes, Cleo was the main antagonist and was archrivals with Clawdeen Wolf, but she eventually becomes much nicer to the ghouls. At the start of Volume 2, she's finally confronted with her own uncompromising, overbearing nature when all the fearleaders except Frankie Stein quit.
Appearance
Cleo de Nile's a mummy in the possession of long black hair with brown (which varies in shade in the webisodes and on the doll) and gold highlights. Her skin is mocha colored, smooth and flawless. She has turquoise eyes, though they've also been depicted as green. Many parts about her points to her regal heritage, such as her ever-present burial wrappings, which she has to wear lest she disappear into dust,[1] and a blue jewel under her right eye. Generally, she wears thick bright eyeshadow, highly pigmented lipstick (cherry red, gold, blue, green), and always wears thick black Egyptian-style winged eyeliner.
Relationships
Family
Cleo lives with her father, and older sister, Nefera de Nile.[2] Her dad's name is Ramses de Nile, and he's an antiques dealer. So far, nothing is known about Cleo and Nefera's mother. In The Ghoul Next Door, Nefertiti is said to be the girls' aunt.
In the webisode "Miss Infearmation", Cleo mentions having an older sister called Nefera de Nile, who's out of the country with their father. Clawd's 'School's Out' diary also mentions Nefera being the previous fear squad captain.[3] Nefera is said to be a model in Cleo's 'School's Out' diary.[4] Based on both the 'School's Out' diaries and the cartoon, Cleo and Nefera don't get along very well.
Friends
At the beginning of the series, Clawdeen's angry with Cleo for dumping her brother Clawd, but now Cleo and Clawdeen are best friends and on the fear squad together. She's friends with Ghoulia Yelps, and they even plan their school schedules together.[5] Ghoulia often serves as Cleo's personal assistant ("Copy Canine", "Mad Science Fair"), but also shows her great kindness as well. She's sometimes bossy and demanding to the other ghouls, but she's also shown to be afraid of opening herself up to deeper friendships and making herself seem vulnerable. As the series has progressed, she has mellowed out and become much nicer and GFFs with the other ghouls.
Pet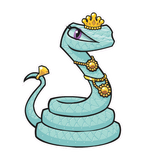 Cleo de Nile's pet is a snake named Hissette, whose attitude reflects Cleo's. In the Monster High book series, Deuce gave Hissette to Cleo as a gift, saying she was his mom's 'first gray hair', yet in her diary, it was stated that it was given to her as a gift from Egypt. In the books, Cleo also has seven cats named Chisisi, Bastet, Akins, Ebonee, Ufa, Usi, and Miu-Miu. This is a reference to how cats were worshipped by people and cherished and treasured, especially by royalty, in Ancient Egypt.
Romance
Cleo's dating Deuce Gorgon. She used to date Clawdeen Wolf's older brother Clawd, but according to Ghoulia it was a messy breakup. She said that it doesn't help that Cleo started dating Deuce the next day.[6] The relationship between Clawd and Cleo, however, was only the result of C.A. Cupid's arrows. Even if Deuce occasionally gets tired of her competitive personality, his feelings for her are true. It states in C.A. Cupid's SSS diary that Cleo and Deuce started dating on November 1st.
Timeline
July 11, 2008: Mattel requests the trademark for Cleo de Nile.
May 05, 2010: The Monster High website goes live, featuring Cleo de Nile's profile.
May 05, 2010: Cleo de Nile's profile art is revealed.
May 05, 2010: Cleo de Nile makes her animated debut in the Higher Deaducation commercial.
May 05, 2010: Cleo de Nile makes her 2D cartoon debut in "Jaundice Brothers".
Early July, 2010: Cleo de Nile's debut doll is released as part of the 'Basic' series.
Early July, 2010: Cleo de Nile makes her diary debut in her 'Basic' diary.
September 01, 2010: Cleo de Nile makes her Monster High book debut in Monster High.
Early December, 2010: Cleo de Nile's debut plushie is released as part of the Friends series.
February 12, 2012: Cleo de Nile makes her 3D cartoon debut in "Why Do Ghouls Fall in Love?".
September 05, 2012: Cleo de Nile makes her Ghoulfriends book debut in Ghoulfriends Forever.
November 05, 2014: Cleo de Nile makes her anime debut in "The Golden Cleo de Nile".
Notes
She has the ability to charm snakes, but refuses to do this to manipulate Deuce.[7]
We learn in "Daydream of the Dead" that Cleo has at least 10,000 servants.
In the 'School's Out' line, Cleo was voted "Most Likely to Command Attention", and in an official Facebook photo, she was voted "Most Likely to Leave a Legacy".
We learn in "Hiss-teria" that Cleo is afraid of spiders. This comes up again in "Escape From Skull Shores".
The hieroglyphs on Cleo's vanity translate to Klio, the first part of how the real-life Cleopatra's name was spelled. In Ancient Egyptian, there is no letter representing an "e"-sound and phonetically the "e" in "Cleopatra" was and is treated as an "i". Meanwhile, Ancient Egyptian had three letters for "k", one for the "c/k" sound, one for the "kh" sound, and one for the "q/k" sound. Cleopatra's name was spelled with the latter "k".[8]
Cleo is nyctophobic, or afraid of the dark, after being entombed for millennia.[9]
In the Monster High book series, Cleo uses the word "Ka". Although Ka means "soul" in terms of the Ancient Egyptian religion, it is also the Egyptian word for "Bull". When Cleo uses the word "Ka" in the Monster High books, she uses the latter meaning, for example: "Take the ka by the horns".
Her and Deuce's anniversary is November 1.
Gallery
References