To better cover the various aspects of the subject matter, this article has been split into one main page and several subpages. Select which one you wish to read.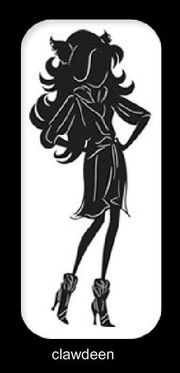 Clawdeen Wolf debuted in the books in Monster High of the Monster High book series, which premiered on September 01, 2010.
Books
Monster High
Clawdeen is only introduced. She has a tuft of fur around her neck, which is usually confused for a stole. Animal rights activists (such as PETA) usually dump paint on her and harass her due to them thinking she's wearing animal fur. Like the character she's based off, she's constantly waxing or shaving. Monster High Clawdeen participates in The Ghoul Next Door documentary, and was about to do the Teen Vogue photo shoot, but didn't show up, due to Bekka sabotaging the documentary and making Clawdeen's RAD status known. The Ghoul Next Door Her parents flee from town and take their kids with them, using their Bed and Breakfast as a hideout. This conflicts with her plans of her 'Sassy Sixteen' party, so she plans it behind her mother's back and decides to still have it in town. Things get even more complicated with Draculaura shows up to stay with her family, and becomes infatuated with Clawd. When the time comes for her party, Clawdeen sneaks out and faces her mother, who understands Clawdeen's dilemma and allows her to go to her party. The birthday almost ends in disaster when a couple of boys taunt Clawdeen for being a werewolf, but she takes the initiative to flaunt her monster heritage. The party becomes a huge success when all the monsters still in town flaunt their RAD status, and it becomes known that the RAD's have no terrorizing agenda, and are welcomed into the community after all. Where There's a Wolf, There's a Way Clawdeen helps Lala and Blue with the T'eau Dally submission letter; later she helps Lala with the contest. Back and Deader Than Ever
Ghoulfriends
Like almost everyone else at Monster High, Clawdeen comes under Sylphia Flapper's mind control. In this state, she assists Frankie when Rochelle asks her to make a new suit for D'eath. Though Frankie and Clawdeen likely would've helped out in their right mind, Flapper's goal of seeing monsters efficiently united has the girls put everything else aside to finish the suit within a day. Clawdeen is not freed until a few days later by the efforts of Venus, Rochelle, Robecca, and Cy. Ghoulfriends Forever
Comics
Hopes and Screams
Clawdeen is with Lagoona and Draculaura when the latter opens an email for her advice column in the Gory Gazette. The email is from Cleo and accuses Frankie and Deuce of dating behind her back. Certain that it is a misunderstanding, the girls can nonetheless not know for sure because Deuce is gone and Frankie petrified. Deciding they can't do nothing, they place Frankie in a cart and take her to Cleo's house, where they only find Deuce also looking for Cleo. They tell him of the email, startling him badly because it indeed is a misunderstanding, and the group returns to school, where they find Cleo and explain everything to her. Hissy Fit After another recording for her Gory Gazette vlog Fashion Screams and Yawns, in which she judges the fashion sense of fellow students, Clawdeen ends up talking about well-dressed men with Abbey. Heath overhears this and decides to impress Abbey by being featured as a Scream on Clawdeen's vlog. Clawdeen only awards Heath the status of Yawn, though, so he enlists the help of Howleen. Clawdeen and Howleen recently had another disagreement in which Howleen felt herself put away as incompetent again, so she is eager to prove she can do fashion too. But her suggestions don't earn Heath any more of a Scream from Clawdeen than his own did, so as a last ditch effort Howleen dresses him in clothes from Clawdeen's latest fashion line that has yet to be revealed. Disaster strikes and the entire collection is left burned and covered in green splotches. While trying to get rid of them, Howleen pretends the damaged clothes actually are Clawdeen's new line: Hot Mess. It's an instant hit and within moments the other students have redressed, forcing Howleen to admit to Clawdeen what happened. Clawdeen, impressed by Howleen's on-the-spot marketing trick, accepts that it was an accident and grants Heath a Scream because he both helped create the line and was the first to wear an ensemble from it. Hot Couture A few days later, Clawdeen has a great time at the Gory Gazette party. Scream All About It!
I Only Have Eye for You
This article or section is a stub. You can help the Monster High Wiki by expanding it.