To better cover the various aspects of the subject matter, this article has been split into one main page and several subpages. Select which one you wish to read.
Catty Noir was trademarked on December 12, 2012 and her first doll came out in Late August, 2013. As of August 01, 2016, her doll number totals 7 and makes up 0.59% of the entire Monster High doll collection. Other merchandise of her is not yet available.
Dolls
Lone Signature dolls
| | |
| --- | --- |
| | |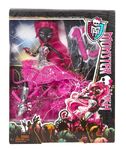 Doll: Her eyeshadow is white and her lipstick is hot pink. Her hair is styled in a high ponytail, with a part hanging down around her face.
Clothes: Catty Noir wears a white broken-mirror style dress with pink tulle cascading down and around it. The tulle is decorated with white sequins and the bodice of the dress sports the number 13 in pink glitter, among the broken mirror shards. A strip of white netting separates the bodice from the bottom tulle.
Accessories: Her knee-high wedged boots are white with a cracked mirror pattern. She wears a pink, flowery necklace, and two clear, glittery pink, studded hoop earrings in her right ear, and a pink 13 earring in her left. She has a metallic pink studded bracelet on her right hand, and two similar ones with two white bangles on her left hand.
Extras: She comes holding a pink, sparkly microphone. She also comes with a black doll stand, brush, and her diary.
Notes: At this time, it is unknown if there's anything of note about the doll's availability or stockphoto.
New Scaremester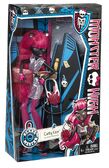 Doll: This Catty's hair is hot pink and waist long straight and loose, with straight bangs. Her lipstick is soft pink and silver lining under the eyes, with turquoise eyeshadow.
Clothes: Her outfit consists of a tight neck tube dress with short sleeves. The dress has a mirror pattern, with her classical shatters, highlighted with pink borders. The dress has a strand of fabric wrapped around her waist three times, with a white cat shaped buckle. She's also wearing shimmery hot pink to-the-ankle leggings, with white lace at the ends.
Accessories: She's accessorized with molded pink fingerless gloves with molded white lace, a deep pink collar with a silver 13 charm, three earrings shaped like claws, one white, one silver one red, as well as her pointy pink wedges, with silver heels with broken glass pattern. She also comes with a deep pink cat Skullette purse with white handles.
Extras: She comes with a stand, brush and a log.
Notes:
Ghoulebrities in Londoom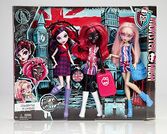 Doll: This Catty has striking pink under the eyes and purple and silver on the browbone as well as hot pink lipstick. Her hair is shorter than usual, and also wavierm with side bangs and a single black streak in them.
Clothes: She's wearing a sleeveless tube dress with a pink Union Jack pattern, along with mirror shatters and the number 13 hidden in it.
Accessories: Her bracelet is pink she also has a pink belt with a silver 13 buckle, that hangs on her waist. Her gogo boots are white with silver heels. She comes with a travelling bag with a molded Skullette painted white and with a handle shaped like a fish skeleton, arched to look like an actual handle. The bag can open.
Extras:
Notes: This doll is only available in a 3-pack with Viperine and Elissabat.
Boo York, Boo York - City Schemes
| | |
| --- | --- |
| | |
Doll: Catty's musical look features her hair in inverted triangular bangs and loose long hair, with bright blue streaks in half of the fringe and down her hair. Her lipstick is deep reddish pink and her eyeshadow is an outstanding combination of purple, silver and white, with blue mascara in her lower lashes. Her skin has a shimmery touch, with turquoise glitter.
Clothes: Her dress is short and simple, with a V-neck and no sleeves, as well as an angular cut in the bottom, like a kite.
Accessories: Catty's accessories complete her look from top to bottom. With crytsal inspired elements, such has her cat ears studded headband, made of shimmery blue plastic, her body piece with dramatic crystal shoulder pads and molded shatters in the torso and her cat-face little blue purse. She is also wearing soft pink opera gloves, with molded shatters, and her shoes are blue stilletos with crystals coming from the front, studs and a faceted wrap.
Extras: She comes with a stand and brush, as well as a diary that is downloaded online.
Notes:
Geek Shriek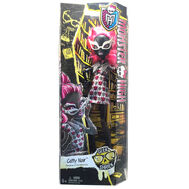 Doll: Catty's hair in this version is in a short ponytail, in the top of her head, and the hair is all pulled back. Her lips are painted soft pink.
Clothes: This Catty's dress is short and simple, with short baggy sleeves and a folded collar. Her dress pattern is a cat inspired argyle pattern and
Accessories: Her shoes are white plataforms, with molded mirror shatters and a strap with molded whiskers and ears and her fake glasses are white and have cat like arches.
Extras:
Notes:
Boo York, Boo York - Out-of-Tombers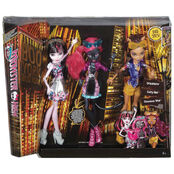 Doll:
Clothes:
Accessories:
Extras:
Notes:
Fierce Rockers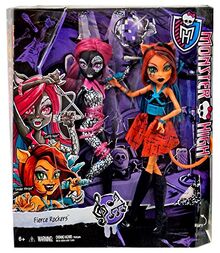 Doll:
Clothes:
Accessories:
Extras:
Notes:
Gallery