To better cover the various aspects of the subject matter, this article has been split into one main page and several subpages. Select which one you wish to read.
Catty Noir
Characters
Birthdayo
N/A
Age
16
Pet
Not having a pet is just one of the sacrifices I felt I had to make to pursue being a singer but now I'm looking forward to getting something creepy cute and scary sweet.
BFFs
I look forward to having the chance to make some.
Catty Noir is a 2013-introduced and all-around character. She is a werecat and a student at Monster High. Having striven for a place in the music industry from a very young age, Catty is a world-famous pop star and teen idol, who has many fans at Monster High. It was a meeting with these fans that eventually made her decide to put her career on hold at age 16 to enjoy what remained of her teenage years as a regular student. Though she loves to sing and entertain others, it does her good to finally have time for herself again. One thing she hasn't put on hold is her adherence to superstition. In general, the way it affects her life is small and can be worked with, but occasionally her uncompromising beliefs get her into trouble.
Portrayers
She is voiced by Missi Hale in the English version of the cartoon.
Character
Personality
Catty is a very superstitious person, which is a fact she is aware of herself and readily admits. Much of this is expressed through ritualistic behavior. She always has a piece of a broken mirror with her on stage, always enters the stage left and after having walked under the stage ladder first, always leaves the stage right and then walks under the stage ladder there, and her pre-concert meal also is always the same: thirteen items, of which seven chicken nuggets, five apple slices, and one strawberry shake.
Appearance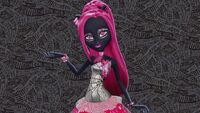 Catty is a black werecat with long, pink hair and pink eyes. In her own words, she loves "big, flashy, larger than unlife outfits because they are ghoulishly glitzy, creeporifically cool and fangsolutely fun!"
Timeline
Gallery