To better cover the various aspects of the subject matter, this article has been split into one main page and several subpages. Select which one you wish to read.
Catrine DeMew was trademarked on April 16, 2012 and her first doll came out in Late January, 2013. As of January 01, 2015, her doll number totals 4 and makes up 1.18% of the entire Monster High doll collection. Other merchandise available of her is limited to costumes.
Dolls
Scaris: City of Frights
| | |
| --- | --- |
| | |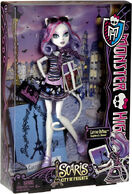 Doll: Catrine debuts as the first white werecat, with a face-sculpt similar to Catty Noir and typical catlike eyes. Her hair is pale purple with hot pink streaks, molded into two large curls to frame her face. The color tones in her makeup complement her hair. She has pale purple eyebrows and nose detail, darker purple lips, pale pink eye shadow, and a line of bold blue eyeliner on the upper lids. Her eyes are pale green and denim blue.
Clothes: Catrine wears a white, pink, blue, and purple striped tee shirt with princess sleeves. Her two-tiered layered skirt has a fitted top layer in black with a pattern of abstract paint blotches. The second layer's pattern matches her shirt. Her shoes are pale purple yarn secured at the ankle with a rosette. At the back of the heel there is a small bow detail. The platforms of her shoes are molded to look like pastel crayons and paintbrushes. She wears a Scarisian scarf tied around her neck, with swirling spiderweb / rot-iron pattern, and a pair of large smoky quartz sunglasses sit atop her head.
Accessories: Catrine's scarf and sunglasses are removable items. She also wears a two-layered belt to hold her pastels and brushes, attached at the front with a skullette and with two buckles in the back. The doll comes with a stand but does not include a bag or luggage case like other dolls in the Scaris line.
Extras: Her hands have molded and painted black fingerless gloves and sharp claw-like nails, identical in shape to the hands used for Meowlody and Purrsephone. Her "diary" for the debut release is actually a sketchbook containing Scaris concept art in watercolor and pastel.
Notes: This doll is exclusive to Walmart.
New Scaremester
| | |
| --- | --- |
| | |
Doll: Catrine's coloration is a bit more off-white this time. Her hair is pale purple, in two layers, the top pulled back into a ponytail and all hair behind the ears allowed to hang loose. She has one hot pink streak and one bright purple streak in front of her right ear, and pink streaks in the second layer behind each ear. Her lip and nose tint are the same smoky shade of purple. Her eyebrows are a slightly darker purple, and her eyes are shadowed with pale purple the color of her hair. Her upper lids are accented with one line of hot pink. Her eyes are still pale green and denim blue.
Clothes: She wears a cropped, fuzzy black cardigan with three-quarter sleeves over a one-piece, two-tiered dress. The dress has a bodice top with blue spaghetti straps and a ruffled waist. The pencil skirt has a dropped ruffle to create a dip at the backs of the knees. The dress has vertical stripes of pale pink, denim blue, and shiny purple. The ruffles of her dress have the same spiderweb and rot-iron pattern on her Scarisian scarf in her debut release, this time in shiny purple on scalloped black cloth. She wears a sheer denim blue scarf tied around her neck. Her shoes are pale purple scrollwork peep-toe platforms, closed by two skullette and bow clasps along the front.
Accessories: Catrine's scarf is removable. She comes with a pale purple coffin-shaped case holding four tiny pastels, each with a ring to fit her fingers, so that she can be posed as if sketching. She wears a black pony bead bracelet and a pale purple pony bead bracelet. At the second curve of her tail she wears a black cat-eared skullette bow. She also comes with a pink messenger bag, detailed with molded and painted bows, and a stand.
Extras:
Notes:
Ghoul Chat
Doll:
Clothes:
Accessories:
Extras:
Notes:
Gloom and Bloom
| | |
| --- | --- |
| | |
Doll: Catrine's lipstick is deep purple and her dramatic makeup consists of silvery pink under the eye, hot pink under the crease and two layers of eyeshadow on the browbone, one is lilac and the other is a pearly white, almost non-visable against her skin. This specific Catrine has a pink nose. Her pastel purple hair is curled and pulled in a side ponytail, with side bangs that curl up, framing her face.
Clothes: Catrine is wearing a two layered flowery dress. It is like a tube dress but a skirt flows from the waist line, making it look like a summer dress. The pattern shows flowers in an artist syle over a pastel background, randomy spread. The neck of the dress is made of blue sheer, that goes around the neck. In the bust, the dress has a sown on vinyl flower with branches, as well as a blue ribbon around the waist.
Accessories: This Catrine is based on flowers, which are her main theme here, with a dark blue headband with a big flower with painted on scary faces, and a lime green bow choker, with a little molded skull. Her shoes are blue heels with vines and fleur de lis molded in them, adorned by big leg bracelets with molded flowers and bulbs. She cames with two bracelets, one dark blue and the other one hot pink.
Extras: For the Gloom and Bloom botany dance, Catrine is ready with her claw inspired tool and her little green vase with molded flowers, as well as a removable bush of deep purple flowers. She comes with a sketchbook, and a stand and brush.
Notes:
Fangtastic Fitness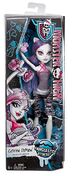 Doll:
Clothes:
Accessories:
Extras:
Notes:
Gallery
Ad blocker interference detected!
Wikia is a free-to-use site that makes money from advertising. We have a modified experience for viewers using ad blockers

Wikia is not accessible if you've made further modifications. Remove the custom ad blocker rule(s) and the page will load as expected.