Captain Penny is Robecca Steam's pet robot penguin.
Owner's words
"Captain Penny is my mechanical penguin. Working wings are unnecessary when one is equipped with a rocket pack."
Physical Description
Captain Penny is a copper-colored robot penguin with an orange beak and white-encircled green eyes, and many rivets.
She is in frequent need of an oil change and some students call her "Grumpy Penny".
Meta Timeline
November 9, 2011: Mattel requested the trademark for Captain Penny.
February 12, 2012: Photos of a boxed Robecca Steam and Captain Penny from Toy Fair appear on the internet.
February 13, 2012: Captain Penny was officially revealed in Robecca Steam's profile published on the Freaky Fab 13 microsite.
August 2012: Captain Penny was released with the basic Robecca Steam doll.
Merchandise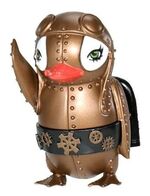 Figurines
Between Classes
'Between Classes' Captain Penny stands with her right wing up as if in greeting.
Ad blocker interference detected!
Wikia is a free-to-use site that makes money from advertising. We have a modified experience for viewers using ad blockers

Wikia is not accessible if you've made further modifications. Remove the custom ad blocker rule(s) and the page will load as expected.