There are two book series connected to Monster High. The first is a series by Lisi Harrison, the second by Gitty Daneshvari. At the moment, it is unknown if the two series are in continuity with each other or if the second series represents a brand new continuity.
Monster High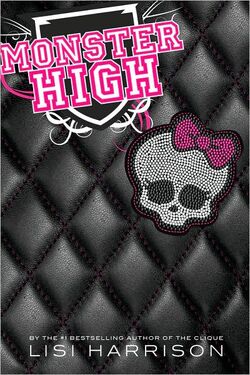 Written by Lisi Harrison, the Monster High book series was announced on June 3, 2010 and said to become a series of six books.[1] On April 13, 2012, with the fourth book being readied for release, a suspision from Toy Fair 2012 that the fourth book would be the last of the series was confirmed on Harrison's website.[2]
The continuity of the Monster High book series is vastly different from the other Monster High continuities. Rather than Frankie Stein, the role of protagonist is shared between Frankie and the book-exclusive character Melody Carver, with a balance tilted in Melody's favor. Each of the books tells an ongoing story through the eyes of one selected character. In the case of the first book, it's Frankie Stein, the second is about Cleo de Nile, the third about Clawdeen Wolf, and the fourth one about Draculaura. The thirteenth chapters of the two first books are missing from those books and were released on special occassions. Both focus on Ghoulia Yelps.
The following books make up the series:

The Drop Dead Diary, released on October 3, 2011, is also part of the book series.
Ghoulfriends Forever
Written by Gitty Daneshvari, the Monster High: Ghoulfriends Forever series was first heard of on April 17, 2012 through Amazon. The first book is set for release on September 5, 2012.[3]
The series is described as such:

Ghoulfriends Forever is a brand-new Monster High series, introducing three new monster characters. As new students, the trio must navigate the bewildering array of cute monster boys, established cliques, and monster-rific subjects like Mad Science, G-ogre-phy, and Physical Deaducation. As if that weren't hard enough, something strange and sinister seems to be happening at the school. Popular girls like Frankie Stein and Cleo de Nile are acting weird-and all signs point to everyone's new favorite teacher, Miss Sylphia Flapper. Can the new GFFs expose the fave as a fraud, or will they succumb to peer pressure?
Monster High - Ghoulfriends Forever Sneak Peak
References
External links