To better cover the various aspects of the subject matter, this article has been split into one main page and several subpages. Select which one you wish to read.
Amanita Nightshade
 was not 
trademarked
 and her first doll came out in Late January, 2015. As of January 01, 2015, her doll number totals 0 and makes up 0% of the entire 
Monster High
 doll collection. Other 
merchandise
 of her is not yet available.
Dolls
Lone Signature dolls
| | |
| --- | --- |
| | |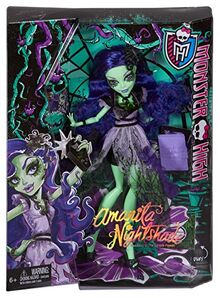 Doll: Amanita's hair is styled in volumous curls of deep purple and blue shades, with long bangs parted to the side and a section of hair pulled back, held by an hair clip. Her makeup is simple, with bright green in the crease and military green eyeshadow, with lilac lipstick.
Clothes: Her outfit is regal looking, consisting of a short tube dress with a leaf pattern top and a leather skirt, overlayered by a long sheer dress. This dress is lilac with leaves and vines stamped in the bottom, that is cut like flower petals. The top is simple, with a wrap around neck with black fabric around the shoulders, waist and neckline, which also has some sheer ruffles. Her sleeves are short and ruffled too. On her dress she also has sewn in ruffled pieces of sheer purple material.
Accessories: She's wearing a corpse flower shaped hair clip, with molded vines, as well as a black studded bangle, black recasts of Scaris: City of Frights Cleo and a vine leaf shaped statement necklace. Her shoes have flat plataforms with leaf wraps around the toes and the heel is a black flower bulb, with vines and torns. She is also wearing ankle bracelets, with purple flowers, molded leaves and vines that fall to the floor, like roots.
Extras: She also includes a basic stand and brush, as well as her lilac portefolio with a molded corpse flower and swirls, with a picture of her inside, and her very own ICoffin.
Notes:
Gallery
Ad blocker interference detected!
Wikia is a free-to-use site that makes money from advertising. We have a modified experience for viewers using ad blockers

Wikia is not accessible if you've made further modifications. Remove the custom ad blocker rule(s) and the page will load as expected.